Wavetra Energy Academy intensive Solar/Inverter installation training. You can also click on the curriculum tab above for more information. Scroll down to make payment securely online and complete your registration.
Scroll to the bottom to find information on how to register.
Boost your CV with this skill. Employers pay more attention to your skills than all your degrees put together. Watch short video after "LEARNING OUTCOME" subheading.

Learning Outcomes:
We hope that at the end of this course, you the participant will learn how to install solar panels, Inverters, batteries and all components for your clients. We want to launch you into a powerful career in renewable energy and because of that, we are giving out FREE handouts/materials during the training and we shall take you through the principles of solar technology with great EMPHASIS on the practical/hands-on training on how to install a complete solar system. We shall teach you the BUSINESS side of this amazing technology so that you CAN MAKE AS MUCH MONEY you will with this new technology.
At the end of the course, you would be able to do the following:
Install Solar Panels for clients
Install Inverter and deep cycle batteries
Understand Inverter Load & Power Estimations & Calculations
Learn about Battery technology and types of batteries
Understand the various types of Inverters: Pure Sinewave and Quasi-Sinewave inverters.
Understand and learn to install PWM and MPPT Solar charge controllers.
Understand the various types of Solar Panels: Polycrystalline, Amorphous & Monocrystalline Technologies.
Understand Inverter & Solar Panel Specifications. Course Contents & Schedule.
Acquire entrepreneurial skills on how to launch your own career in Solar/Renewable energy.

Target audience:
This course is aimed at Students, graduates, NYSC members, Engineers, Home owners, Architects, Property Developers, Consultants, anyone that has interest in Renewable energy or who want, to have a good understanding of Solar Photovoltaic.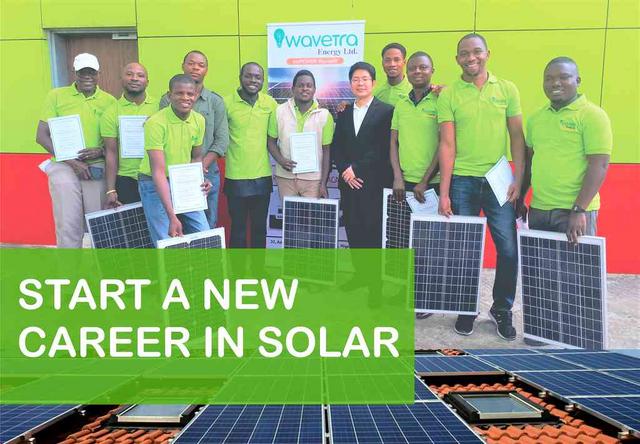 Prerequisites:
A basic knowledge of O'Level Physics, electricity or experience of renewable energy is an advantage.
Click below to find out how to enroll/pay now with your card or bank transfer.
TRAINING DAY1 • Introduction to Renewable Energy and Solar Technology

Types of Solar Panels, Learn different types of Charge controllers: MPPT and PW charge controllers, their applications and installation. Cables and Cable Lugs. • Inverter Systems: Inverter Types, Features & Technical Specifications • Batteries: Battery Types: Deep Cycle Batteries, Engine Start Batteries, Sealed Lead Acid Batteries • Tools and Equipment used for Solar & Inverters: Tools and equipment used for Solar and Inverter Measurements

Practical Exercise: Using Multimeter and Clamp Multimeter, Voltage and Current measurements from battery and Solar panels

TRAINING DAY2 • Types of Solar Energy Installations

Learn different types of installation for solar and Inverter system.

TRAINING DAY3 • Energy Efficiency, Energy Auditing, Introduction to Systems Design:

Designs and Installation procedures of inverter systems, Understanding Inverter Specifications & Features, estimating Inverter capacity for specific household or Load requirements, basic Inverter standalone tests. Solar Panel specifications, Estimating Solar and Inverter specifications for a given loads or Power requirements

TRAINING DAY4 • Solar Electrical Installation & Electrical Safety:

Safety in handling deep cycle batteries (to avoid for e.g. Explosion or fire!). This module of the training teaches all the Electrical safety requirements, for Inverter Installation. • Inverter Installation: Electrical Load Isolation from the Mains Circuit Breaker (MCB), interfacing the Inverter to the Building, connecting the Solar Panels to the Inverter. Interfacing the Solar Charge Controller to the Inverter, mounting and Installation of the Solar panels.

TRAINING DAY5 • Entrepreneurship and Solar Installation

All you need to know about the business side of solar and renewable energy. You shall be taught how to start a career in solar energy. How you can source genuine products. Acquire entrepreneurial skills on how to launch your own career in Solar/Renewable energy.